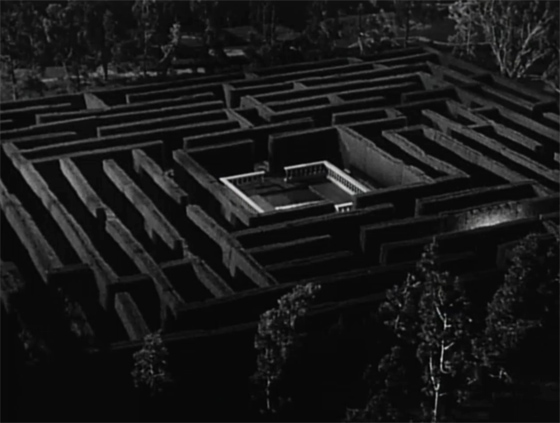 (1953) **

Kitty and Gerald, have just got engaged to be married when Gerald is suddenly called away to his family estate in Scotland. He writes back to Kitty calling off the engagement but swearing he will forever be faithful to her. Unable to accept his declaration Kitty and her old spinster Aunt Edith arrive at the castle unannounced. Gerald's weird behavior worries Kitty so she invites a doctor and some friends for a second opinion. Gerald's family secret is finally revealed when Kitty & Aunt Edith make a trek into the forbidden hedge maze.

Some of these old flicks will keep you wading through lots of fretting and boring dialog waiting for the eventual reveal of the terrifying monster.
Here he is. Yup, a giant frog. Correction, a dude in a frog suit who is dubbed with the braying of a rampaging elephant.
Kitty's reaction. Screeeeeeeeeeeaaaaammm!!

Hmmm, Abduscias and I had a very different reaction, we were roaring with laughter.