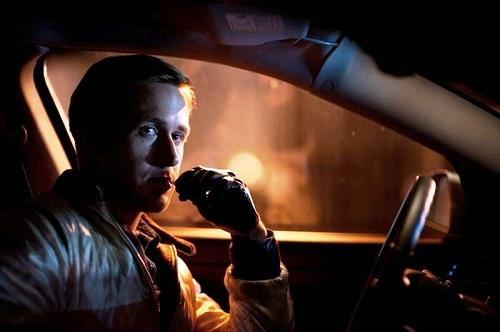 It's Horrorthon, right, so everybody here's inured to the experience of watching a bad movie. But you know how every so often you get to one that's so terrible, so irredeemable, so unwatchably
bad
that you don't even finish getting thorough it it? It's usually not the straight-up trash; those are what they are, and one reacts accordingly. It's the high-profile, well-made, A/B-list productions that can really do damage to your soul.
Drive
(starring an unappealing actor I'd never seen before named Ryan Gosling, who's like a better-looking, less lovable Cameron from
Ferris Buehler's Day off
) is such a movie.
The opening titles (in
pink "handwriting" font
) and blaring synth soundtrack had me thinking that the whole thing had to be some kind of joke, from the very beginning. The opening sequence (in which the unnamed protagonist has to outwit a police dragnet including cars and a helicopter) was promising; I'd never seen anything like that before. But then the movie gets down to business, and the sheer ineptitude of the storytelling and production, combined with the overblown, pretentious "nihilism" of the plot and the character descriptions, created a thoroughly unpleasant atmosphere, oppressive and dull at the same time (with characters alternately behaving stoically and shouting at the top of their lungs) that finally beat me into submission and I gave up.
Not to mention the fact that the movie is needlessly, garishly violent, with slow-motion shotgun-to-the-head closeups, not in the good Eli-Roth way but in the childish, creepy "I'm so cool" fashion that makes you wonder what the filmmakers have going on in their subconscious. And Christina Hendricks (removed from her
Mad Men
persona and clothing for the first time in my experience) is totally miscast, her presence wasted.
Apparently a lot of people really dig this movie (which is why I rented it). But what a load of crap! I'm bringing it up here just to see if any other H'thonners shared my experience of this odious film.