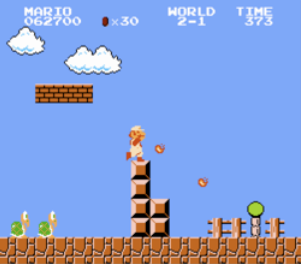 Well, holy crap. What an unprecedented display! 133 comments! And a lot of those with multiple haikus within them! (205 total – everybody should put their initials in.) Everyone's raw brilliance was on display once again, and I must congratulate absolutely everyone for totally eating the Fire Flower, and hurling fireballs all day long. If my girlfriend got captured by a giant monkey, I would be honored by ANY of you climbing ladders to save her. In a game.
Picking a winner this week was, as always, like trying to select the hardest working bee in a beehive: How can one be better than another? They're all making such sweet, sweet honey. On to the awards…
For his absolutely brilliant series of Mortal Kombat haikus, Sweatpants wins the So Very Bloody Fatality Award. Some of his best:
Oh you like your arms?
What if I just tore them off?
My friends call me Jax
Deadly Mileena
Breaks your heart then eats you whole
Hall & Oates were right
You've angered Raiden
Mock my giant hat, will you?
*guy fucking explodes*
Did I mention that
I kill people all day long?
Shoulda saved your coins...
(This last was a front-runner til the very end, but alas...)
We had a bunch of nOObs this week (that's the first time I've ever used that word in the proper context) and they were all brilliant:
miner works the shaft
spelunking my Commodore
Lode Runneth over (penned by G)
Been 60 minutes.
Still his turn. Remind me please
Why is this so fun? (courtesy of MrsX)
pumping up dragons
with your little white nozzle
this game makes no sense. (Mr. AC)
Octopunk had incredible output, not the least of which was JPX's origin story (which kept unfolding through multiple haikus), complete with a hilarious haiku debate over the morality of touching another's buttons, as well as summing up Gauntlet perfectly (due to space limitations, I can't reprint the whole debate here - just take a look at the last half of the comments. It is flat-out genius):
JPW
Spun the spinner bit too far
Now he's JPX
Yeah, Gauntlet was lame
"So-and-so needs food badly"
The ghosts never stop
For this he receives the coveted Bionic Commando Memorial One Kick Ass Metal Extendable Arm Award. (I haven't the slightest idea what that means, but an award's an award…) And seriously, the final series of "The Tempest Affair" haikus were amazing - I felt like I was watching a time-lapse film of the event itself!
For the Honorable Mention, which I've rechristened the Blow Everything Up On The Screen Instantly Award, we have 4 fantastic entries:
a high school boyfriend
was pissed off when i beat him
at galaxian (AC)
Tall buildings? Puh-lease.
I, Crazy Climber, will...AGGHHHHH!
Fucking flower pot. (Chris)
Hype building for months.
Atari captures zeitgeist!
You call that Pac-Man? (Landshark)
Eat it diving bees
Double ship, now feel my wrath!
Sigh, one more quarter (nowandzen)
Not only did Landshark use the word "zeitgeist," but there also was a kick ass haiku about Mike Tyson's Punch Out, among many other brilliant ones. And nowandzen captured the magic of Galaga, which I had been wrestling with all day.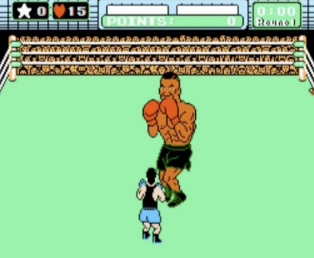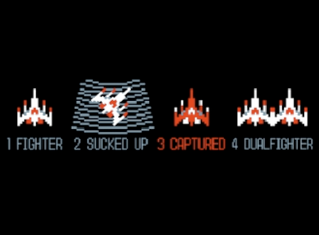 For the Final Round Double Danger, it came down to Catfreeek vs. JPX. In terms of sheer output, they both went toe to toe, with their energy meters down to one bar by the end of the day. Each had a host of Special Moves, and each used every weapon in their repertoire, all of which made me double over laughing. It was one hell of a fight, and Ryu and Ken could take a lesson here.
Catfreeek favorites, for which she garners the coveted Flying Raccoon Suit Award:
I think Brent enjoyed
Beating my kids at Kombat
He smiled when they cried
No need to learn moves
Get my ass beat anyway
Punch random buttons
Was playing Zelda
Fought hard to save the princess
The ungrateful bitch
JPX, however, won the day due to his immense outpouring, with these highlights:
"Adventure" was cool
But the hero was a "square"
He was a damn square!
In advanced levels
Power pellets do nothing
It's a damn cock tease
As well as his Finisher: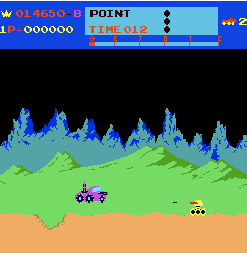 Moon Patrol was fun
But after a few minutes
Moon Patrol's not fun
Congratulations, JPX!
I honestly could go on and on, reprinting all of everyone's brilliance again, but that one was the one that made me immediately snarf. I'm posting this immediately, because the more I go back and look, the more and more brilliant each one becomes. I wish there didn't have to be just one winner, but if video games have taught us anything, it's that you play to win, and you play to turn into a giant dragon, and eat your opponent's torso.
Amazing brilliance on everyone's part!