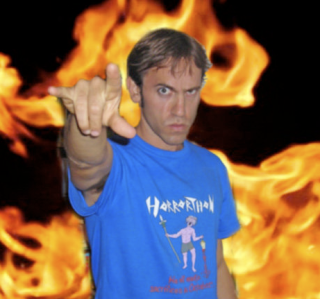 I must confess that this was entirely the brainchild of AC, and she deserves all the credit and/or blame. Once she mentioned it, I couldn't stop thinking about it. This was an utterly irresistible concept, to put up one of our own for celebration and ridicule in 17 syllables, and what better First Person than the Father of Haiku Hump Day, Johnny Sweatpants himself?
I'm quite certain that almost all of you have a good JSP story, either having been raised with him, or hung out with him, or been the subject of his wrath, or been beaten by him at any number of things, most likely chess, Scrabble or Boggle. Or all of the above in one sitting.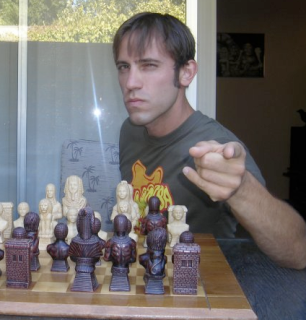 Just look at that smug bastard.
He & I have also had a decades-old battle for Ms. Pac Man high score supremacy, which spawned this victory photo of his.
For his version of events, check it out here.
Of course, everyone should remember that at a proper Roast, it's not just the Roastee who should be the target. No one is safe. I expect to hear from Whirlygirl regarding JPX's dishwashing ability, or maybe Dana's Brain trashing Puffinslayer from some unknown reason. And I know for a fact Catfreeek is salivating at this whole idea.
I look forward as well to the inevitable JSP backlash.
Happy Roast-a-thon, everybody! Remember, NO ONE is safe!!!