The beautiful moment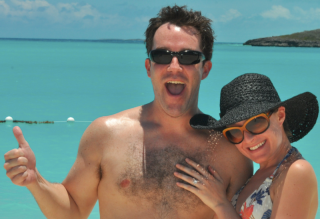 MrsX, pictured here wearing the product of Stan's last few sneaky weeks. (The ring, not the hat.)
Johnny Sweatpants' answer to the title question was "He's up to no good." That's only somewhat accurate. The last few weeks have been consumed with the subterfuge of travelling secretly to Baltimore to ask her father's permission, buying the ring and then finding a place to hide it in our 900 square foot apartment (behind the wrestling DVDs - I KNEW it was safe there), and booking our (first real) vacation (ever) to the Bahamas, which was where I dropped the bomb.
I just wanted to share the news here, because even though there's a handful of you out there I still haven't met face to face, I consider all of you very close friends, and my intellectual peers (who am I kidding - my intellectual superiors :).
We're still figuring out what the heck we're actually going to do for the wedding, as to where, when, how big, etc, but I'll certainly be keeping you all updated.
MrsX has also yet to decide if she's going to keep her blog last name, or change it to MrsStan, or MrsX-Stan, so we'll see.