I do NOT envy the winner of HHD every week. This is like trying to choose between your children. Each individual is brilliant for their own reasons, and to watch the mental acumen of the group at large roll in like ocean waves over the course of the day is nothing short of beautiful. I was lucky to have a 16 hour workday where I could monitor the site, which doesn't always happen.
I am still honored and surprised at JPX's selection of me last week; it is an honor just to be here. To try to rank and evaluate the myriad talents of this group is like trying to compare the sweet juiciness of a tropical fruit with the overall thrusting power of a jet engine.
My point, and the thing that I really learned today, is that there is no one single member here that writes a better haiku than anyone else. They are ALL incredible, ALL different and great, and you are ALL brilliant, and I mean that in the most serious way. What it comes down to is that you are all, in fact, winners.
In another, more accurate way, Octopunk is the winner: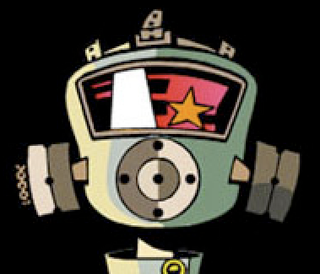 See my invention!
The boomerang shuriken
Lodged in my forehead
Really, though, it was an agonizing decision. In the end, Octo's was the FIRST one to make me spew out liquid, and I must confess to being influenced by some of his past work. In this instance, it paints an extraordinarily large picture in only 17 syllables, which is the beauty of the art form. Achieving brilliance through limitation. Here, Octo introduces us to a ninja who, unsatisfied with the conventional tools of the trade, decides to invent a new weapon. Right there, we have a sense of the overall intelligence of this ninja. The usage of "shuriken" wins super vocab points as well, as it's the kind of word that we would all pretend to know what it means even if we didn't. (It's a star, right?)
Anyway, Octo brings it all home in the final five syllables, weaving a tapestry of this brilliant, proactive, intelligent ninja walking out to the field one day in front of fellow co-workers to demonstrate his new invention. The last line indicates something that could have been said immediately after impact, or weeks later after recovery. The dichotomy of the brilliant ninja that manages to spear himself in the forehead, and the depth of that story, is what made Octo's haiku this week's champion.
The VERY VERY close runners-up, which my girlfriend also had strong opinions about (but in the end, come on...I AM Handsome Stan...)
nowandzen:
Blacker than the night
Cold steel on the unwary
- Damn forgot my sword
(Same exact indication of depth and inept ninjability. Literally, as close a second as you can get. The ninja that purposely calls attention to himself and stabs himself in the forehead just had a SLIGHT edge on the ninja that simply forgot his sword. But I loved the implied image of the badass line being cut off when he reaches for the sword.)
miko:
Off into the night
He is not looking for love,
but he'll take your heart
This one was just fucking awesome. Juxtaposition of "love" and "heart," with subtle allusions to Mortal Kombat finishing maneuvers, this one had it all. But not an inept ninja. But I LOVED this one.
Good luck next week, Octo! I don't envy you! But the experience is awesome!