(Sorry I couldn't post last week. As it turned out in a thematically appropriate way, work sucked…Special Early Post here for the West Coast to get a jump. Ahem hem...cue 2010/2001 theme song...)
We've all had them. We might still have them, to some degree. Witness: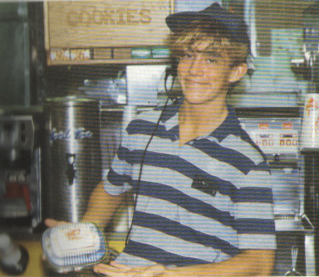 "Welcome to McDonald's. I'm Stan. Would you be interested in the $4.99 Lobster Sandwich, circa 1991, which is basically a bun only? Would you care for an Apple Pie with that?"

That pic appears on page (fucking) THREE of the 1992 Barrington High School Yearbook. Frozen in time for all future historians. This same picture that some of my (ahem) best friends have successfully re-immortalized on Myspace and Facebook. I sell Lobster Sandwiches with a Sun-Inned horrible haircut dressed in a clown suit, in the Internet Cloud, for all eternity.
However, I kicked some serious fucking ASS at Drive-Thru Run. Proud of it. People literally DIDN'T BRAKE when they pulled up to my window, and found their Swirly Cone and bag of Extra Value junk already hanging there in my outstretched hands. And my Saturday peak lunch register line always fucking FLEW. Management material. JSP (as my coworker there for a brief time) has eyewitness accounts that can hopefully come in 17 syllables.
Continuing the high school/college theme:
I think half of Horrorthon knows what I'm talkin' about here. Strangely, this was one of the best jobs I ever had. But Hako-ing SUCKED…
Anyway, we've all probably found varying degrees of mental & physical frustration in what we have chosen for ourselves as our professional lives.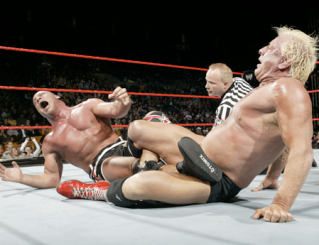 As rational beings, we always strive for the higher, we hope for the perfect.
Whether we've found ourselves being the de facto male in the office who is the Only Guy that can change the water cooler (didn't forget THAT haiku, JPX), or whether it's being the dorky guy in some horrible city called Rome having to tolerate the mindless ramblings of some dingbat, we all have our crosses to bear: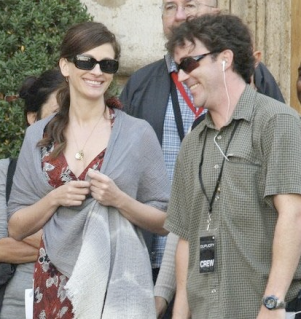 Anyway, my particular chosen job and industry may seem somewhat "oh hooray" on the surface, but it really sucks serious big hairy donkey balls most of the time: the 80 or so crew people you work with are always genetically surly (to an almost existential degree), the hours approach something Upton Sinclair would feel compelled to write a novel about, and occasionally, working conditions are so miserable that you have to consider, on a deep, personal, rational level, why ANY human being would choose to do this and/or continue to do this sort of thing. Mailmen look at film crews from behind their living room curtains, shaking their heads in dismay and disbelief. ("Neither rain nor sleet, I know, but LOOK at those fucking retards out there…")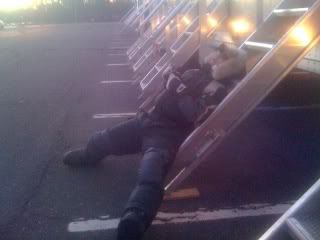 Stan, in his minus–40 degree-rated thermal monkey suit (a $400 item bought out of necessity, which actually happens to be totally awesome and effective - I'm warm ALL DAY), collapses on the steps of a trailer after repeatedly cueing a helicopter to film extras walking through a frozen forest for 8 hours straight. This happened YESTERDAY.
Anyway, jobs suck, and I must apologize, I didn't mean this to turn out to be a litany of my trials and tribulations (
*collective blog yell: "SURE you didn't!"*
), and I wish, beyond the deepest vibrations of my soul, that the human race would find some way to eliminate Work as this ridiculous and for some reason inevitable Concept that we all must be forced to go through. There has to be a better way.
Some of us get to build Legos and models for a living, and for that, I am SO encouraged that there actually is stuff out there that gives you money for doing shit you love. Go get 'em, Octo! (But there HAVE to be disgruntled Lego people out there – even the guy that built the $14,000 6-foot Batman could be the Office Jerk.)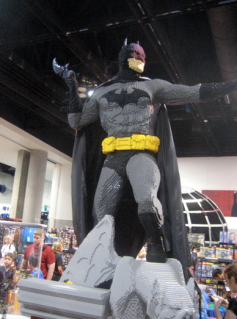 "What do you MEAN we're fucking out of gray bricks?"
But to bring it all back, as the subject of this Inaugural Haiku Hump Day Of The New Decade (pause for moment of somber reflection), the whole thing is really about Jobs That Totally Suck. Total Crap Jobs. Ones we've had, ones we hate, and ones we'd never ever in a million years ever conceive of being able to do.
I'll leave you with two things, the first from my own experience, the second from the good ol' Interwebs:
First, The Joke:
These old high school friends bump into each other after many years. One says he's a lawyer and the other says he works at the circus. "My job," he says, "is to climb on a stepladder behind constipated elephants, stick a fire hose up their ass and loosen them up."

"My God, that's terrible," says his friend, "Why don't you leave?" And he answers,

"What, and quit show business?"
[One of the camera operators and I were talking about this subject (the nature of the joke, not actual enemas for elephants), and he had a great tidbit he uses to describe working in the film business to those that want to know:
On the coldest, wettest, snowiest, most miserable night of the year, go outside and stand in your backyard. Unspool your garden hose, and take every single item out of your garage and put it on the lawn. Every 45 minutes, rearrange all the stuff onto the other side of the lawn. Don't ever sit down. After 6 straight hours, you can go back inside, sit down and eat for 30 minutes. For every half hour that you don't go inside to eat, you get handed $7. After lunch, continue this same process for another 7 hours. When the sun starts to come up, re-coil the hose, and put everything back in the garage. Go inside and sleep for 6 hours. Wake up & do it all over again in a different neighbor's yard for two months.
I countered with the adage about no matter how beautiful, how sexy, how awe-inspiringly gorgeous any given woman is that you might see or meet, the rule of thumb is, There's Always Some Guy Out There Sick Of Taking Her Crap. Bottom line, the grass is NEVER greener. And sometimes, it's only dirt. By the way, that adage applies to every girl in the world except for this one, in a return appearance in one of my posts:]
"No, that's totally cool baby. Eat crackers in bed while farting and picking your nose. I can TOTALLY handle it. (pause) My car? Destroyed? Well, whaddaya gonna do...(face into breasts)...Let's go back to the wrestling ring I have conveniently built next to the bedroom..."
Second:
A little list I found (created by someone else, not me), which we all can use as fodder for our 17-syllable simulacrum:
THE 10 WORST HORRIBLE JOBS EVER:
10. Restaurant dishwasher
9. Slime line workers
8. Barnyard masturbator
7. Medical waste biohazard cooker
6. Sewage treatment workers
5. Chainsaw operator
4. Poultry kill room attendant
3. Hazmat diver
2. Hospital laundry workers
1. Meat plant carcass splitters
And let us not forget Garbageman (as necessary as it must be), Cab Driver, Mailman, Telemarketer, Customer Service Representative, Airline Security Checkpoint Employee, Parking Ticket Enforcer, Doofus that hands out flyers and shit on the streets, the Guy in the animal shelter that has to kill kittens and puppies as part of a JOB (yes, I went there, it's a horrible job and SOMEBODY'S got to do it…sorry, Catfreeek).
When you really stop to think about what some people will do to simply be "working" and "have a paycheck," the range of activity is mind-blowing. ("I got benefits, but I gotta put all this expired uranium in a bucket...") Noble selves, to be sure. Except for the animal shelter guy. He's caught in a personal hell of compassion and duty, presumably. Wouldn't wanna be THAT guy.
All of your 17-syllabic thoughts are welcome. Ambrosia, in fact. Help me get through my current 17-hour workday. One syllable for every hour I spend not playing Wii Golf and drinking beer. Love you all.
And yes, #8 was NOT a typo. Real job.
As an antidote to this topic, go read "Atlas Shrugged." Please do so right now. It will make you feel really good about working hard in any field even
slightly
approaching what you love. Trust me. Plus you'll feel really smart & stuff.
Topic-wise, there's also Jobs That Are Totally Awesome, but maybe that can be a sequel week someday.
Like being the guys that build one of these - Happy 2010, Everyone! The Year We Make Contact! On the blog! With Each Other! Um, Still! [Cue rousing music...]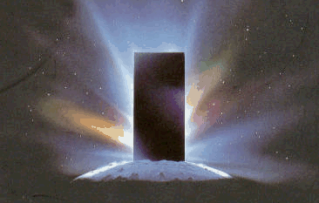 "What do you MEAN we're fucking out of gray bricks?"